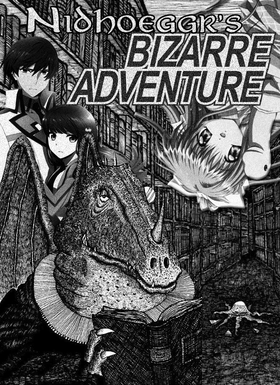 Nidhoeggr's Bizarre Adventure is a survival-action/adventure/drama/supernatural novel series written by a mysterious author(s) only known as The Collective Consciousness. It follows the titular and titillating character, Nidhoeggr (who is in no way related to the real Nidhoeggr; the names are purely coincidental) who finds himself alienated by his newly adopted brother, Ventris SpaceDragon (also purely coincidental from the real Ventris) as the latter is secretly attempting to usurp Nidhoeggr as heir to the famous Yarnspinner clan.
Part 1: Oniisama Blood
TBJOHJ'd
Part 2: Precure Tendency
TBJOHJ'd
Part 3: Oscaaaaar Feels Crusaders
TBJOHJ'd
Part 4: Oniisama Is Unbreakable
TBJOHJ'd
Part 5: Jew Boiler
TBJOHJ'd
Part 6: Uber Ocean
TBJOHJ'd
Part 7: Inferno Ball Run
TBJOHJ'd
Part 8: Nidhoeggrion
TBJOHJ'd
Part 9: Uguu, Motherfucker
TBJOHJ'd
Part 10: Me So Titillating
TBJOHJ'd
Reception
Nidhoeggr's Bizarre Adventure is a bonafide smash hit among critics, users, and plebes alike, and currently has a 90% rating on UberTomatoes. It has sold 99 trillion copies in the Uber Kingdom alone on the first day, and has become an integral part of the Uber Elitist culture since. Sales have since tripled following Nidhoeggr's Bizarre Adventure's 25th anniversary. It has also spawned multiple TV series and a feature film starring Clint Eastwood as the titular character.
Legacy
TBJOHJ'd