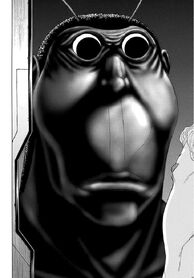 JOHJ is the official Anime Uber-Elitists club mascot. He the embodiment of all that is righteous and true, with some of the most beautiful looks and greatest hobbies. 
JOHJ hobbies
Stealing cars, smoking ganja, drive bys, tearing off heads, JOHJ.
Terra Formars
Catch JOHJ fight Evil in the upcoming volume of Terra Formars, this August 2013.